PKD Negative DNA

"Stamboom van Björn (SC. Keystone Born To Do It)"
"Showuitslagen van Björn (SC. Keystone Born To Do It)"
---
"IC.PR. Candy Kisses Double Forgeron"
(PER g 33) Bluetortiepoint
Geboren:04-07-2007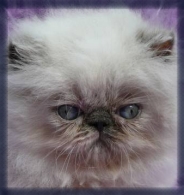 Candy Kisses was born from IC. Here I Am of the Booted Tomcat and EC. Misty Brown's Blue Magic.
Can you imagine the joy of our discovery that Amy had a little female in her litter, and that she was nothing short of being absolutely beautiful? Amy's deliveries were not by the book. Unfortunately, she lost her first litter at 7 weeks and once pregnant again we watched her scrupulously and anxiously. Finally, she gave birth through a caesarean.
The litter consisted of three gorgeous kittens of which 1 unfortunately died a few days later. To this day on, we are uncertain of whether or not she will nest again so we decided to keep all the kittens. After all, we do breed for ourselves.
But should there be a next time- "never say never again" -is an excluded combination because Magic has been neutered. Kiss, as we call her is friendly to all other cats and kittens as well as everyone in the house.
---
"SC Honey Bun"
(PER d (21) 33) Red (tabby) Point
Geboren:14-09-2008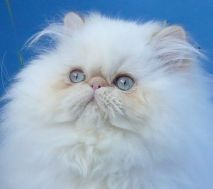 Honey.
---
Click back to Females.........
---
Click to index.......
---